Click here to see our full photo gallery
Welcome to the Swinging Bridge Christmas Tree
and U-pick Blueberry Farm
Swinging Bridge Farm now offers nearly two acres of U-pick blueberries (over 600 bushes) for a picking season that runs from middle of June to the end of July.
Greetings friends and regular customers. We have very few trees again this year. Foolishly, about 6 years ago, I had the idea to retire so I stopped planting trees. But the sight of empty fields was so painful that I resumed. This year, I have only about 15-20 trees to sell. We will open only for 8 days (or until the trees are gone.) See calendar.
On the other hand, our blueberry U-pick operation is going great! We sold 230 gallons of fruit this year and should have more next year. The blueberry season is all of July and a week in August.
Thank you all for your patronage over all these many years. My books on growing Christmas trees in N.C. on a small farm are available on Amazon. They make great gifts.
WE ARE EASY TO FIND! Driving along the road to our farm you will feel that city life and traffic are far behind. Yet we are less than two miles from 421, the four lane road to Boone from Charlotte, Winston, Greensboro and Raleigh. Return to the four lane and you can head home quickly or, better still, drive into Boone (ten minutes away), and spend the day or the weekend in the mountains. Click here for map and directions.
QUESTIONS? Click here for FAQs, call 828-964-2030, or email us. We will be happy to answer your questions.
We are open 7 days a week during the season from 10AM to Dusk. Click here to see calendar.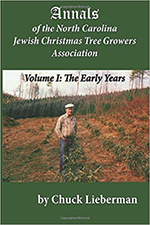 In addition to choose and cut Christmas trees, oranges and lemons, and U- pick blueberries, Chuck has also found time to write a Humor/Agriculture column in the Watauga Democrat (the newspaper of record in Boone) for the last 25 years. After countless requests Chuck has begun the redaction and publication of these columns and in November of 2015 published his first volume, "The Annals of the North Carolina Jewish Christmas Tree Growers Association- Volume One, The Early Years."
This book is available at the farm during tree season, at several fine restaurants in Boone, and of course on Amazon. com. This first volume covers his first 12 years on the Farm and includes the actual records of the meetings of the Jewish Christmas tree growers group of which Chuck was and still is the president. Other topics include his dream life, memories of his year in Viet Nam, his agricultural education at the University of Florida, visits of a certain space ship to the farm, and his dogged but repeated failures in his agricultural endeavors which culminated in a visit by the IRS and his receiving the Agritourism Farmer of the Year for 2015.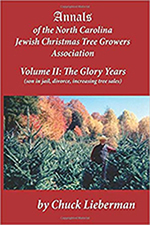 Chuck's second book came out last year and is titled, 'Annals of the N.C. Jewish Christmas Tree Growers Association Volume II., The Glory Years.' This book details Chucks continuing adventures on the farm, more meetings with the space aliens, his son's brief sojourn in prison and his switch from wholesaling trees to choose and cut sales. Both books are sold on the farm, on Amazon, and at the Boone Bagelry on King Street.